Why is Cyber Security important?
Modern organisations conduct business operations, store confidential data and communicate with their customers through their IT support networks and infrastructure.
However, IT networks can be compromised by malicious attacks and the effects of these attacks can devastate a business, leading to bankruptcy. CloudCoCo will deliver a leading UK service for network security.
Cyber Security Protection
Cyber Security is a set of protections that actively prevent cyber-attacks from penetrating your IT infrastructure. This also includes a comprehensive check for end-point protections.
The safety and security of your data and infrastructure not only influence your success, but local and national regulations regarding data compliance also require strong cyber security protocols. This means we will need to carry out detailed security operations checks to increase protection.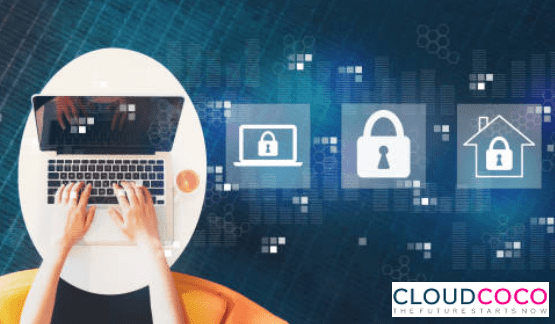 Ensure you meet security standards
If your business does not meet the compulsory standards, you could face severe penalties. CloudCoCo sets up and manages every aspect of your cyber security to give you comprehensive coverage so your business is safe from all kinds of online threats.
At CloudCoCo we have a dedicated cybersecurity team that will help fully protect your emails and conduct penetration testing.
Latest Security Technology
You also need to be aware that identity and access fraud is prevalent, so our team are committed to helping prevent and fix any issues.
Cloud and application security testing is ongoing, so why not relax back and let the CloudCoCo experts ensure your business is fully up to date with the latest security technology.
What is Cyber Security?
Cyber Security affects a plethora of individuals and businesses nowadays, but what exactly do we mean when we talk about Cyber Security?
Whilst you may think you know; the field of Cyber Security is so broad and rapidly developing so quickly with fast-moving technologies that it's worth taking the time to refresh what you know and learn about new developments.
The field of Cyber Security is concerned with ensuring that computer systems and networks are fully protected and defended against malicious threats such as viruses, trojan horses, hackers, malware, denial of service attacks, and many other kinds of cyber threats which are carried out.
Some of these objectives are to cause disruption, blackmail and ultimately commit cyber-attacks against an organisation.
Everything from social media to online banking involves different levels of Cyber Security and has different measures in place to help prevent consequential harm.
Cyber Security is intended to protect against, among other things, unauthorised access, data theft, software damage, and disruption of service.
As well as protecting against these threats, the field of Cyber Security is also concerned with data recovery.
Who needs to be aware of Cyber Security?
The answer to this is simple, everyone needs to know.
With so many devices connected to the internet nowadays, Cyber Security is an increasingly broad field affecting an increasingly broad number of people on a personal level as well as the devasting consequences organisations can face.
Whether you are browsing your computer at home, shopping online and sharing your personal/banking details with a website, or you are a large corporation holding personal details about customers, it's important that information is not misdirected into the wrong hands.
Cyber Crime costs the UK economy billions of pounds every year and huge amounts of time and energy on top. This is where our specialist team at CloudCoCo comes to the rescue and provides the right safety measures to stop it from getting this far.
At a business level, appropriate Cyber Security practices are required to be implemented by law to ensure the protection of personal data.
If you are a business owner and ignore regulations such as GDPR, you are running the risk of significant fines. Aside from this, malicious agents using ransomware or denial of service attacks can disrupt the running of your business which can prove to be pretty costly.
Cyber Security is also important for home PC users who share sensitive information such as financial data over the Internet.
It's important to be well protected and vigilant when it comes to things like spoof emails and phishing scams. These might involve fraudulent emails or text messages claiming to come from your bank or PayPal intended to phish your log-in details in order to scam you out of money, commit identity fraud, and other malevolent crimes.
How is peace of mind achieved?
The answer to this depends on who you are and what potential cyber threats you may be facing.
At the level of a personal computer owner browsing the Internet, it's important to have anti-virus software and firewalls in place.
If you are a business operating online you may even find that you require a dedicated Cyber Security professional, perhaps as part of a broader IT support team.
At a company level, it's important that all staff are trained in Cyber Security best practices to help ensure an overall robustness against potential attacks.
Practices such as regularly changing passwords and remaining vigilant against spoofing and phishing scams will help ensure that no breaches occur.
Many email clients and web browsers nowadays have built-in Cyber Security features to determine whether an email or website is trustworthy; think of the spam folder in your email where disreputable spoof emails end up, or the anti-virus browser plugin which warns you before you enter a potentially harmful website.
Despite these increasingly common protective and pre-emptive measures, there still is no excuse not to exercise extra care and vigilance when you are online.
Where can you get help with Cyber Security?
This is exactly where our expert Cyber Security Team at CloudCoCo comes in.
If you are using the Internet at home for email, shopping etc. you can download anti-virus software – there are free and premium paid versions available.
It's important to keep your operating system, browsers, and applications up to date – this applies to desktop computers, laptops, tablets and smartphones.
The reason for this is that updated software and apps will often have security patches that make it harder for hackers to exploit weaknesses.
Small businesses should be able to handle Cyber Security in-house for the most part, but if you have any concerns or queries about potential cyber vulnerabilities, it's worth reaching out to a professional to whom you may be able to outsource Cyber Security.
Whilst it is possible to research Cyber Security yourself if you are a small business owner, the technical aspect of making sure your network is secure can prove to be challenging for someone lacking advanced technological expertise.
There are many options available for outsourcing Cyber Security to an experienced professional who will help pre-empt cyber-attacks and afford you greater peace of mind, leaving you to focus on running and growing your business without having to burn time on Cyber Security concerns.
Before retaining the services of a Cyber Security company, it's important to have an initial conversation to determine what your needs are.
You may even have some blind spots and weaknesses within your network; a Cyber Security expert like our team at CloudCoCo can help identify and fortify against these.
When would you need Cyber Security?
The answer to this is simply 'NW'. Cyber Security isn't something you just turn on and off!
It should be something that's in place, ready to mitigate against risks both recurring and potential.
In an ideal world Cyber Security would be bulletproof, but as cybercriminals are constantly adapting to security systems and finding ways to bypass them, up to date Cyber Security is more important than ever.
It's important not to overlook areas where you may be vulnerable to cyber-attacks and digital fraud.
With an increasing number of online devices connected to the Internet, there are more targets than ever for hackers and cyber scammers.
This applies at both a personal and a corporate level – many companies are increasingly reliant on technology and it's, therefore, no surprise that cybercrime is one of the fastest growing types of crime globally.
Contact our team at CloudCoCo today for a FREE consultation to help you protect your organisation.
Cyber crime can cost businesses a lot of money and money. Cyber criminals are becoming increasingly sophisticated and are constantly working to outwit the latest Cyber Security systems. If your Cyber Security isn't well designed and up to date you risk being caught out by things such as data theft, denial of service, malware and ransomware. The consequences of not investing in a reliable Cyber Security infrastructure can range from inconvenience to serious financial damage.
More helpful links
Read our latest Cyber Security Focused thought leadership blogs
3 holes in your IT Security when working from home
Watch out for distributed spam distraction